Hope you can join us!
Fairytale Fun for the Whole Family!
Multimedia Play and Production: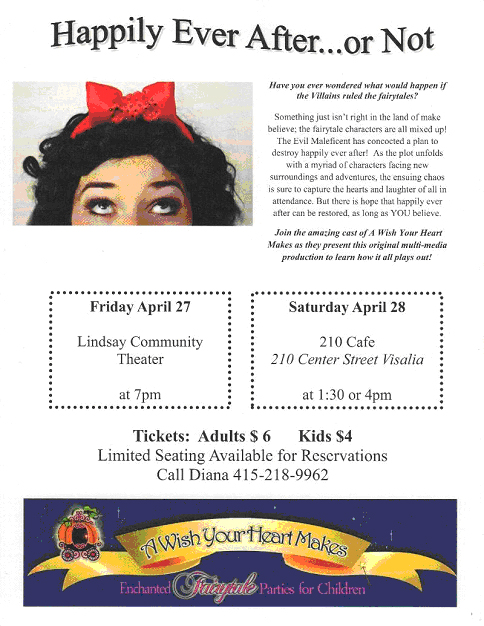 GREAT CAST
Darth Vader — Mad Hatter — Captain Jack —
Princess Belle & the Beast — Snow White — Cinderella and her
Fairy Godmother & the Wicked Stepsisters — Tinkerbell &
all the little fairies — Ariel — Jessie — Dorothy, Glinda, the Wizard 
& Cowardly Lion — AND of course MALEFICENT!!!
Also featuring Susan Pallas's —
SIERRA PERFORMING ARTS DANCERS!!
Limited Seating — For Reservations call Diana 415-218-9962
Photo opportunity with characters after the show with:
Darth Vader–Princess Belle & the Beast–Tinkerbell & her fairy friends–Ariel–Mad Hatter–the Queen of Hearts–Dorothy, the Cowardly Lion, Glinda & the Wizard–Snow White–Jessie (Toy Story)–Captain Jack–the Fairy Godmother–the Wicked Stepsisters–AND Malificent
A wonderful adventure of 'BELIEVE' awaits all…
Tickets can be purchased at Fashion Network, Rohrbach's Gifts and Cards / Baby News, or Cafe 210 in Visalia!