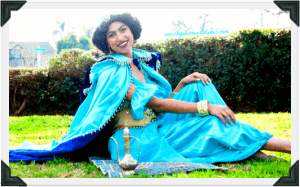 An old Arabian folktale that was first written down in 1709 tells of a poor boy who is sent by a sorcerer to get a magical lamp from a cave. He uses the lamp to summon a genie who grants his wishes of riches and to marry a beautiful princess!
Our Arabian Princess arrives glimmering in a gorgeous jeweled turquoise outfit.
Little girls will be truly enchanted as she shares her story of palace life, being the daughter of the sultan, and how she came to love her prince.