Charles Perrault's famous fairy tale, a favorite of many, will bring a song to your heart and message of "Believing in your dreams."
Arriving dressed in her magnificent blue ball gown and wearing her signature glass slippers, Cinderella will certainly add enchantment to your event!
Book Cinderella for your party today!
*Refer to Fairytale Party Package page for additional activity choices.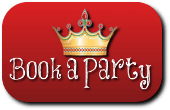 Classic Cinderella
2015 Ella