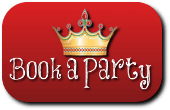 Twas the night before Christmas and children were giddy because Santa just arrived in their very own city!!
Have Santa send your child a personalized 1 minute Video to wish your child a Merry Christmas – $25
Shhhh! It will be a Christmas Miracle!!! Guess who is spending his holiday with AWYHM! Invite Santa and his elves to add some holiday magic to your family or business event!
An experience with our Santa can include:
Reading an amazing Christmas story.
Passing out gifts. Provided by parents or host.
Bringing candy canes or special Christmas bell.
An experience with our Elves can include:
Accompanying Santa to an event, party or gathering.
Leading Christmas carols.
Face painting, providing a craft, etc.
BOOK EARLY! Limited dates available!
Minimum 1 Hour Per Visit  |  $185+