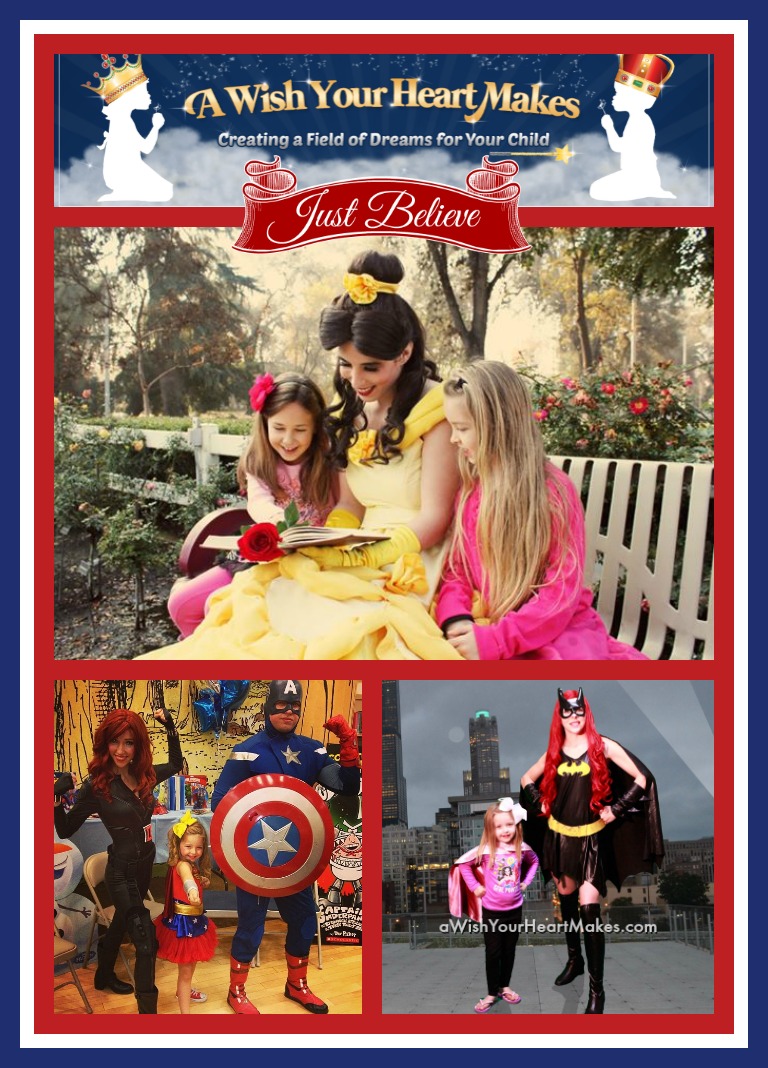 ~Just Believe 2015~              (Comics for Kids)
At AWYHM we understand that adventure stories and fairytales play an important role in the lives of the children who believe in them, and this especially true for children who face difficult times and have special medical needs.
This year "AWYHM's Just Believe event was even BIGGER reaching out to more children than ever before!
We believe we can make a difference in our community for all children, by spreading joy to those who need it most, and also leading by example and teaching others to give back as well.
With your help, we collected OVER 150 comic and Story books to distribute to the children at Central Valley Children's Hospital !
Our team of performers along with select community members hosted a "Bookfair " at Barnes and Noble  in Fresno.
The public was invited to "shop in the name of Valley Children's" from July 8th-12th and part of the proceeds were donated directly to the hospital.
On July 11 from 10-12pm AWYHM characters were on location at Barnes & Noble for a meet and greet while collecting donated books.
                      Captain America, Super Girl, Wonder Woman, and Anna had the opportunity to greet children, and support this wonderful fundraiser!
          On August 16th,  Batman and Ariel delivered the books to Valley Children's, Madera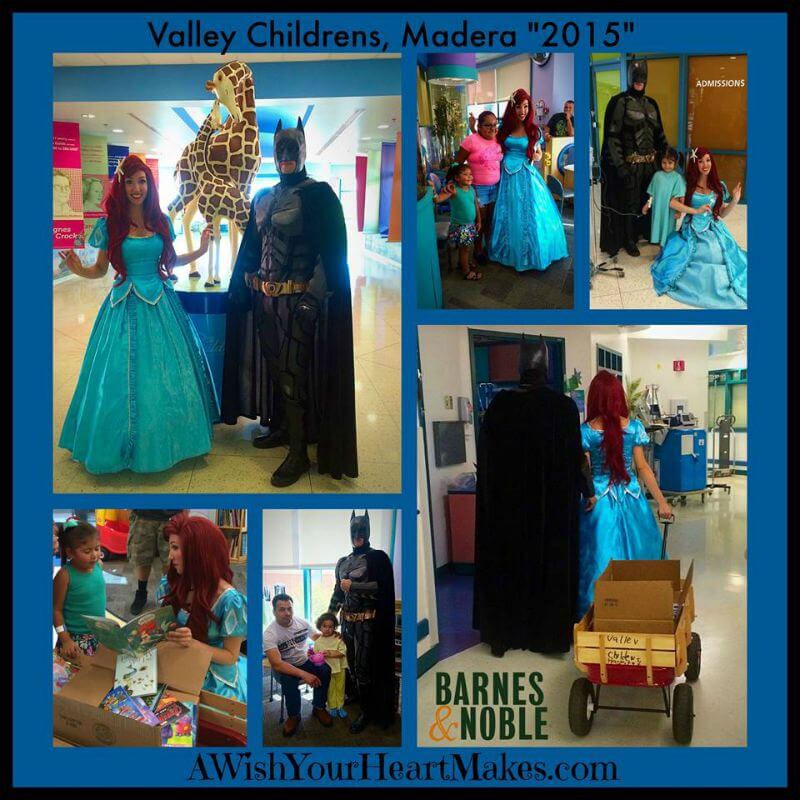 ♥♥♥♥♥♥♥♥♥♥♥♥♥♥♥♥♥♥♥♥♥♥♥♥♥♥♥♥♥♥♥♥♥♥♥♥♥
---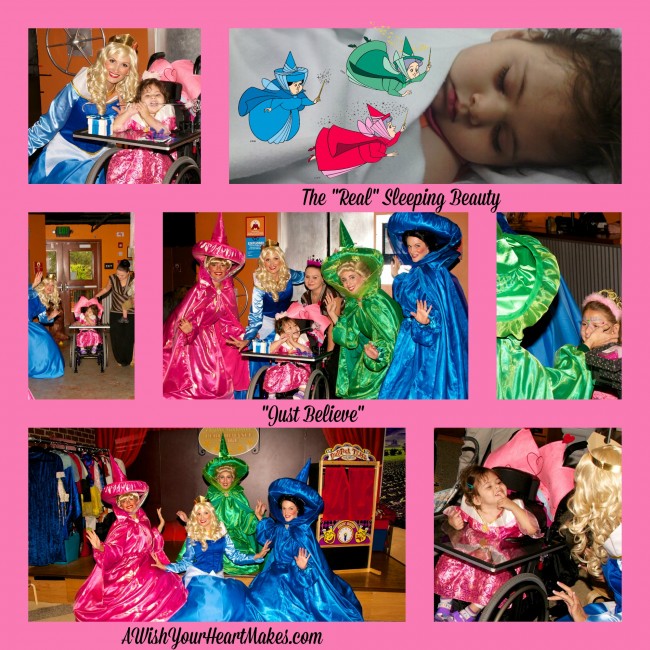 Sleeping Beauty, her 3 Fairy Godmothers and A Wish Your Heart Makes want to Thank everyone involved for her special day…
SLO Children's Museum–venue
JLIVE Entertainment –video
Dennis Young–Photography
SLO Barnes and Nobles–refreshments
SLO Doc Bernstein's–Ice Cream

Each year AWYHM participates in many events, but the one that touches our hearts the deepest is our annual "Just Believe" event for children with special medical needs!
This extravagant enchanted experience is presented by A Wish Your Heart Makes as a giveaway to celebrate a special child.
This year we have chosen 2 recipients- One from our central coast location, and one from our central valley location. This extravagant enchanted experience, presented by AWYHM was celebrated at the SLO Children's Museum on Sept, 28th. Read the story of our "Central Coast" recipient, Lorena Maduena, of Paso Robles below: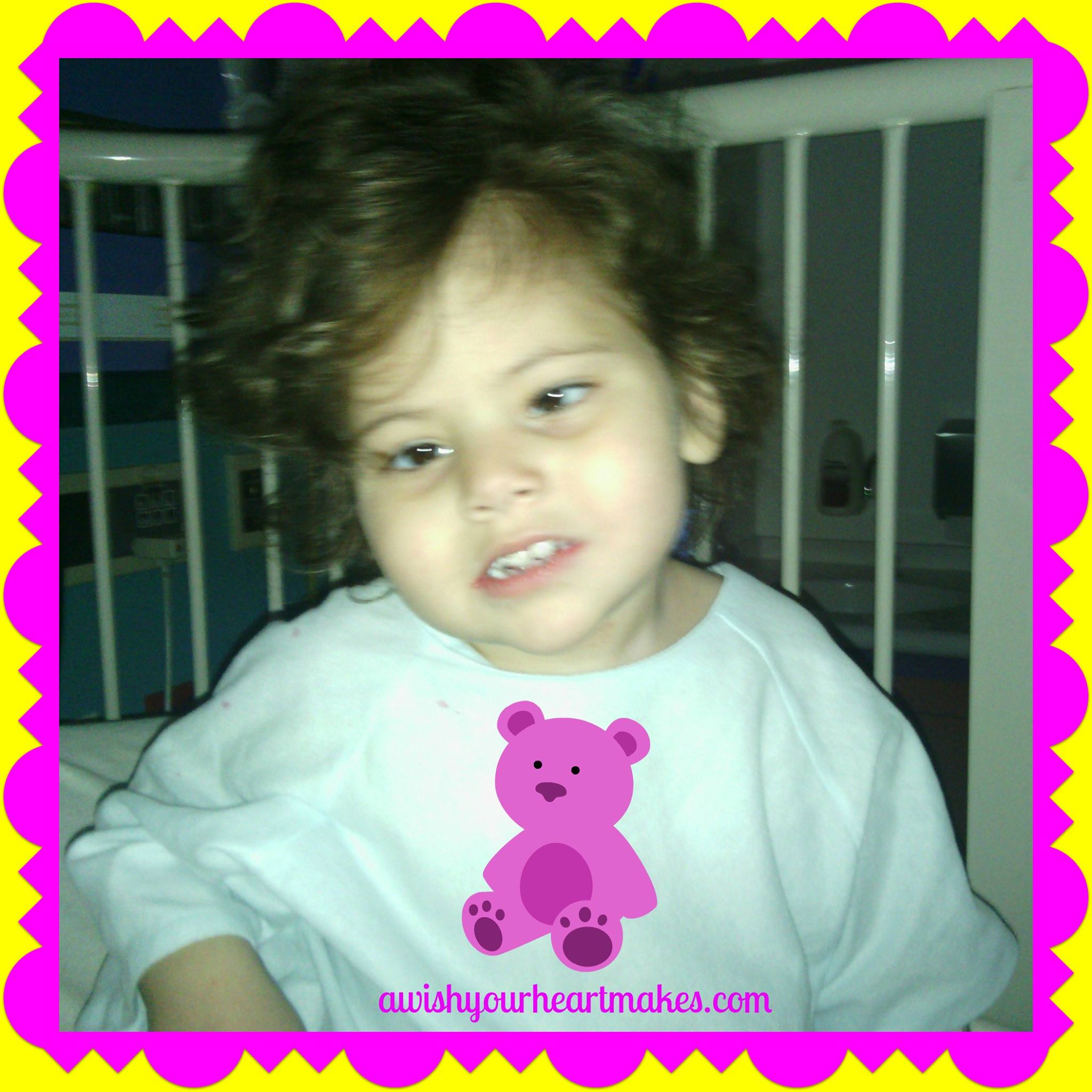 Lorena has a disorder called Hydrocephalus, or more commonly known as, water on the brain. When Lorena was born she was air lifted to Madera Children's Hospital. At only 5 days old, she underwent the first of many surgeries.
Last Easter, when most children were out hunting eggs and eating candy, Lorena had a major seizure that resulted in her being air lifted to UCSF. Just two weeks later, Lorena experienced another seizure lasting 40 minutes. What a scare!
Most Recently, Lorena had a major setback, a shunt malfunction which led to yet another surgery for replacement. Soon after this surgery an M. R. I. showed bacteria around the shunt, leading to yet another surgery, but this time to remove the shunt so the infection could be treated with antibiotics.
On Sept. 2, Lorena had surgery to replace the shunt once again.
At only 3 years old, this debilitating disease has left Lorena in a wheelchair until she can learn to walk. While Lorena developmentally seems like a 9 month old and her hearing is like that of a 6 month old, her surgery was successful and we are looking forward to future milestones.
If you know of a child that would benefit from this special event please fill out THIS FORM!