Jedi Training Academy in SLO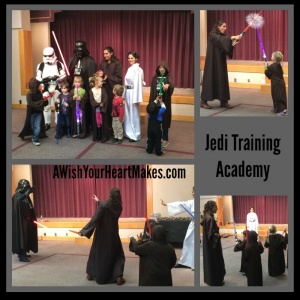 The Galaxy gained new Jedis at the Jedi Training Academy held January 30th in San Luis Obispo at the SLO Public Library. Jedi Master Ryan and Princess Leia taught and trained the padawans to harness and use the Force for good. The students tested their strength and agility with fun activities and light saber training. This all came in handy when Darth Vader made an appearance and tried to get the padawans to come over to the dark side. They pledged their allegiance to the light side and only using the Force for good. They used their light saber knowledge against Darth Vader and succeeded in getting him to retreat.
http://www.ksby.com/story/31100208/jedi-training
After defeating Darth Vader, they enjoyed Jedi snacks to recharge after their battle with the dark side. A truce was held and all new jedis enjoyed taking pictures with Darth Vader, a stormtrooper, Princess Leia, and Jedi Master Ryan. We hope more younglings attend future Jedi Training Academies so that they too can learn the ways of the Force!