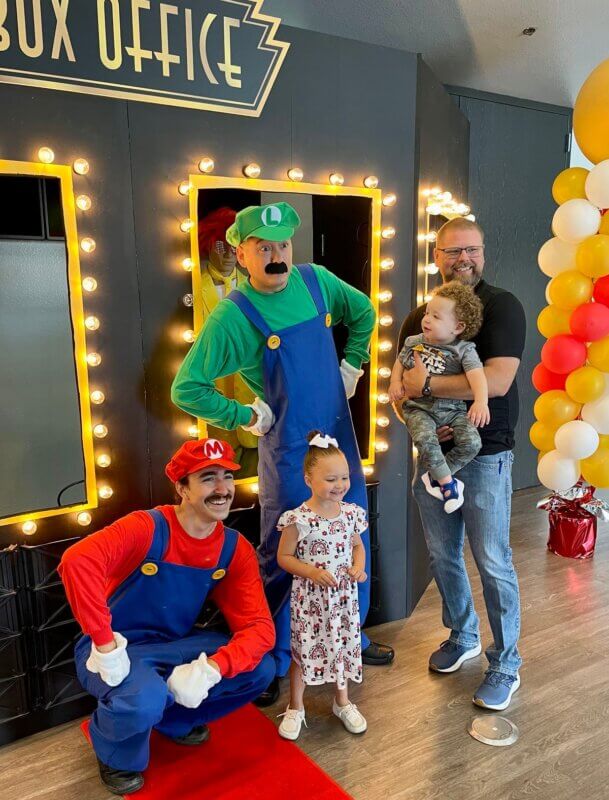 It's-a time to let the adventure begin with our dynamic duo, Mario and Luigi!
Get ready for a party that's packed with fun games, exciting birthday announcements, mind-blowing balloon twisting, and memorable photos to capture every moment.
Birthday Announcement: Let Mario and Luigi make a grand entrance to announce the birthday boy or girl! With their signature enthusiasm, they'll kickstart the celebration with a blast.
Balloon Twisting: Watch in amazement as Mario and Luigi craft incredible balloon creations right before your eyes. From power-up mushrooms to Super Stars, the balloon twisting is as magical as the Mushroom Kingdom itself!
Fun Games: Get ready to jump, run, and compete in thrilling games led by Mario and Luigi. Whether it's a race to collect coins or a quest to rescue Princess Peach, the adventure never stops.
Photos: Capture the magic with photos alongside our beloved plumbers. These snapshots will be cherished memories of a day filled with excitement and joy.
And guess what? Princess Peach is also available to join the adventure at your party!
Stay tuned for updates, and let's make your next celebration a Super Mario extravaganza!