Royal Tea Party at Chaffee Zoo in Fresno
Queen Elsa and Princess Anna held a royal tea party to celebrate 4 year old Alyssa last Sunday, August 7th at Chaffee Zoo in Fresno. Alyssa is a "Make a Wish" foundation recipient and Queen Elsa and Princess Anna were honored to attend Alyssa's special event! Together the royal sisters sang their famous songs and told their daring tale of how "love can melt a frozen heart" and the importance of family.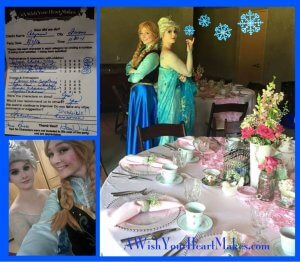 They enjoyed instructing newly crowned Princess Alyssa and her royal court on tea party ettiquette and were pleased to see how well behaved all of the guests were. Alyssa was crowned princess for a day during a red carpet coronation where she received her own tiara and sash. Queen Elsa and Princess Anna thank Princess Alyssa for inviting them to her royal tea party! Thank you also to Pam at Fresno Chaffee Zoo, and the Make a Wish Foundation, for inviting us! Thank you for the "Fabulous! Incredible! Awesome!" review as well – it was entirely our pleasure!