Valley Children's Fundraising Superheroes
A Wish Your Heart Make's own Superman, Supergirl, Spiderman, and Batman attended the event "Super Heroes to the Rescue", a benefit for Valley Children's hosted by the Knights Guild on May 14th in Lemoore, CA.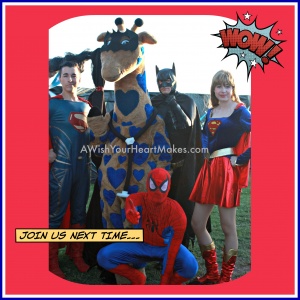 Our superheroes welcomed guests by greeting them personally as they opened the doors of limos, buses, and gators. There were over 500 people in attendance, ready to do all they could to raise money for children who need specialists and long term care at Valley Children's.
Superman, Supergirl, Spiderman, and Batman entertained the guests by doing photo ops and climbing on top of a C-train to pose for more photos. Guests didn't mind the lines because our heroes kept them entertained while they waited.
What a spectacular event for an even better cause: the children! Everyone who attended and donated is a hero to all those who receive care at the hospital!