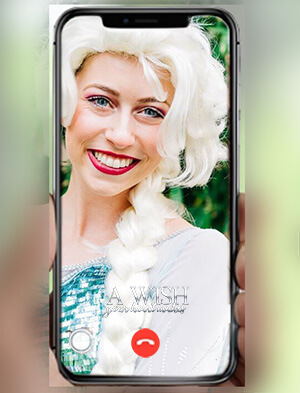 Based on the high interest and absolute JOY our Video Calls have been to children, we decided to offer this service, at this time, on a regular basis! Since our fun-loving characters cannot come to you and hold parties right now, they would LOVE to meet your child via a Video Call! During this difficult time for everyone, our characters are determined to continue spreading the Magic of JOY and LAUGHTER.
**Special 5-8 minute Video Call Price for this "Shelter at Home" time**
Normally $35, we are offering them at half-price: $18
Choose your Character for a Video Call (available 12:00 – 1:30):
Snow Queen (Skype or Face Time) M, W AND Th 6-7:30 pm
Snow Queen's Sister (Face Time) W
Little Mermaid (Face Time) M, W
Belle (Skype) M, W
Toy Cowgirl (Skype or Face Time) M 3-5 pm
or Dark Vader! (Face Time) T, Th
Characters will Interact with your child, share their Adventures through Conversations, Princesses can sing a song together with them, and Vader can talk to them about the Force…
Click on the Link below to Order, and we will email you to schedule you on our Call List:
—- GIVE-AWAY GAME! —
To promote our young performers during this difficult economic time, we want as many Magical Calls ordered as possible! Game on FaceBook: Tag 5 people on our Post and YOU will be entered in a drawing to win a FREE Magical Call! 1 Winner chosen each day!!